Hong Kong's First-ever Virtual Harbour Marathon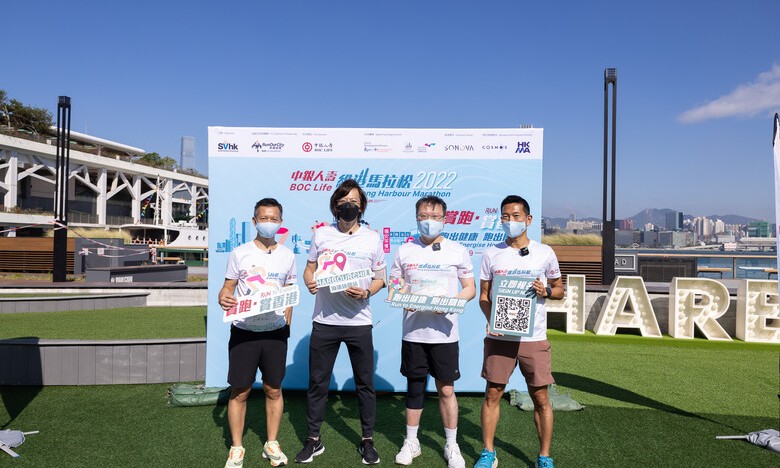 19 November 2022
"BOC Life Hong Kong Harbour Marathon 2022" to Raise Funds for the Underprivileged and Sports Development for the Youth
BOC Group Life Assurance Company Limited ('BOC Life') announced its partnership with Social Ventures Hong Kong ('SVhk') to launch "BOC Life Hong Kong Harbour Marathon 2022" (the 'virtual run') - the first-ever virtual harbour marathon in Hong Kong with charitable causes. With the theme of "Run to Explore", the virtual run aims to connect local communities by promoting the importance of physical and mental health as well as sustainable development of the society. This meaningful event will allow runners to enjoy the beautiful landscape of Hong Kong while raising funds to support the underprivileged and youth development programmes.
A kickoff ceremony cum CEO Run was held at the HarbourChill in Wanchai today (19 November) to unveil the charity marathon. Mr. Wilson Tang, Chief Executive of BOC Life, together with Mr. Francis Ngai, Founder and CEO of SVhk, Dr. Andes Leung, Co-Founder and CEO of RunOurCity, and Mr. Vincent Ng, Chairman of Harbourfront Commission, officially started the virtual run. A number of cross-sector executive runners were invited to join the CEO Run to symoblise the start of this month-long charity event.
Mr. Wilson Tang, Chief Executive of BOC Life, said, "BOC Life is committed to driving corporate philanthropic initiatives, subsidising education and development programmes for young people. By title sponsoring this exclusive virtual charity marathon, we hope to promote the importance of uplifting physical and mental well-being through sports, while creating shared value by cross-sector collaboration. The marathon also helps build a healthy, harmonious and inclusive society, and raises funds to support young people's sports and development programmes."
Mr. Francis Ngai, Founder of SVhk, said, "SVhk has worked with organisaitons across sectors to bring hope and positive energy to Hong Kong since our establishment. Working with BOC Life and RunOurCity on the BOC Life Hong Kong Harbour Marathon 2022, we hope to encourage the public to explore the hidden gems and neighbourhood delights along our Victoria Harbour through running. By connecting people and places we aspire to bridge new perspectives and create a more diverse and energetic city."
All funds raised from the virtual run will be donated to the non-profit making organisation RunOurCity Foundation to support sports development programmes for the youth, with an aim to nurture teenagers' physical and mental development through cultivating sportsmanship.
The virtual run is fully supported by the Harbourfront Commission. Mr. Vincent Ng, Chairman of Harbourfront Commission, said, "Harbourfront Commission is committed to providing opportunities for public enjoyment of our harbour, through running and other leisure and fun-filled activities. The BOC Life Hong Kong Harbour Marathon 2022 is an excellent opportunity for the public to rediscover Victoria Harbour and reimagine harbourfront as a part of our lives."
The "BOC Life Hong Kong Harbour Marathon 2022" will last for a month, from 19 November 2022 to 18 December 2022. It designs the first round-harbour running routes in Hong Kong under the theme of "Run to Explore". Six recommended routes total the equivalent of a full-marathon (approximately 42 km): the Kowloon section runs from West Kowloon to Lei Yu Mun while the Hong Kong Island section runs from Aldrich Bay to Belcher Bay. Runners may complete the route at their own pace in multiple attempts or in one-go. The recommended routes were put together to explore different communities along the harbour, including different neighbourhoods with distinctive community stores, in turn promoting local tourism in addition to fundraising.
For enrolment and more details of the virtual run, please visit www.harbourmarathon.hk.