BOC Life Launches Wellness Ecosystem Brand – "Live Young"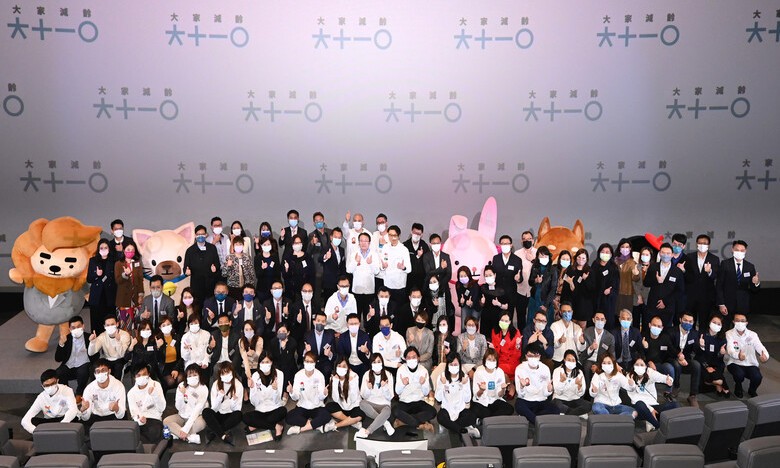 15 December 2021
Exclusive introduction of "Biological Age Model BAM", co-developed by ReMark and Garmin

Partnering with Garmin, innovation and technology startups, social platforms and social enterprises to co-build an open and collaborative ecosystem

Beta attracts 25,000 users, it is expected to reach 100,000 users by next year. Social sharing is key to physical and mental health

An integrated platform of gamification with social and charity elements aims at encouraging the users to foster a healthy lifestyle
BOC Group Life Assurance Company Limited (BOC Life) announced today the official launch of its wellness ecosystem brand – "Live Young". Partnering with the world's leading smartwatch label Garmin, smart health technology start-ups in Hong Kong and Asia, social platforms, local merchant brands, charities and social enterprises, to provide a brand-new wellness ecosystem for Hong Kong people. The "Live Young" programme aims at encouraging users to foster healthy lifestyles by lowering their biological age.
The "Live Young" programme is cutting-edge in its exclusive introduction of the 'Biological Age Model BAM' algorithm, coupling gamification with charity and social elements all into one platform, encouraging users to engage in a healthy and bio age-reducing lifestyle together with their families and friends. Co-developed by ReMark and Garmin, the 'Biological Age Model BAM' won a gold medal in the 2021 Global FinTech Awards organised by the Monetary Authority of Singapore.
Enrolment in the "Live Young" rewards programme is free-of-charge. User data will be recorded by the App based on the BAM algorithm's five metrics: Sleeping Hours, BMI, Resting Heart Rate, Active Calories and Steps. Calculated on a daily basis, Bio Age results are automatically transformed into Points which can be used directly in the rewards app to redeem Garmin smartwatches and eVouchers from a wide range of partner merchants, covering groceries, healthy diet, active lifestyle and healthcare, among many others. Users may also choose to dedicate their Points to charitable causes.
Beta Version Attracts 25,000 Users
The "Live Young" rewards programme commenced its pilot run in mid-year 2021. Without any advertising promotions, the number of users has reached 25,000 by word of mouth alone, and the number of users is expected to exceed 100,000 by the end of next year. The overwhelming strong reception to the Beta version is mainly attributable to the programme's unique social function.
Mr. Ngai Chi Wai, Chief Marketing Officer of BOC Life cum Project Director of "Live Young" rewards programme, said, "Every user gets to add their family and friends in the app, form a group and take on Bio Age challenges together. Points can be shared to redeem rewards or donated for philanthropic purposes. Initial data shows that users send out more than 2,500 invitations to friends per month, and they reduced their Biological Age by 3 years and 4 months on average. We believe connection between people is the key to individual physical and mental health, especially in the post-pandemic era."
Social Sharing Key to Physical and Mental Health
Through massive user surveys and research, our ecosystem team discovered that respondents consider social sharing is essential to physical and mental wellness. While working out with friends provides the main impetus, experience sharing is also crucial to keeping them in good spirits. Respondents also indicated that understanding one's own situation and assessing its effectiveness regularly help users sustain healthy lifestyles. 'Wearable devices such as professional smartwatches can add colour to a health management programme on the back of their capabilities in tracking, assessment, gaming, competition and socialising with family and friends, enriching users' health journey and helping them pursue and stick with desirable habits,' Mr. Ngai added.
Adopting a different approach to business strategy formulation, the "Live Young" project team, along with Design Thinker consultants, made use of design thinking to come up with the strategy and plan for the entire wellness ecosystem. As Mr. Ngai explained, "The Live Young rewards programme is only the first step of many in our holistic wellness ecosystem strategy. Our vision is to forge an innovative, all-win business model that connects individuals, families, peer circles and corporates with social power and well-being. Our team put themselves in the shoes of stakeholders and users during the course of multiple quantitative and qualitative research studies, with the goal of gaining insights into the needs of our customers, which in turn would facilitate the development of the prototype of the ecosystem."
Co-creating and Sharing are Important Pillars of the Ecosystem
Premised on in-depth cooperation with partners from across different industries, the ecosystem develops an all-win model in order to create new value and an enhanced experience for customers. The core partners of the "Live Young" ecosystem in the first phase include: world-leading smartwatch label Garmin, global reinsurance group SCOR headquartered in France and its innovative technology subsidiary ReMark, local start-up Mojodomo, well-known social platform Baby Kingdom, and charitable organisation Food Angel. The rewards programme has brought together more than 35 popular brands as partners, with the ecosystem expecting to welcome additional brands to a total of 100 merchants over the course of next year.
In his remarks at the official release ceremony, Mr. Wilson Tang, Chief Executive of BOC Life, said, "BOC Life's strategy featuring four main life scenarios including health, retirement, legacy and education, with health standing out from the rest with the broadest coverage. Health is a universal value shared by all, particularly in the post-pandemic age. Co-creating and sharing are important pillars of the ecosystem, BOC Life is willing to take the lead in advocating it to all. I hope the Live Young' marque will in future not only belong to BOC Life, but become an established iconic ecosystem that is created, owned and enjoyed by all stakeholders, including customers, collaborative partners and the society at large."