BOC Life and St. James' Settlement Take STEAM Education to New Heights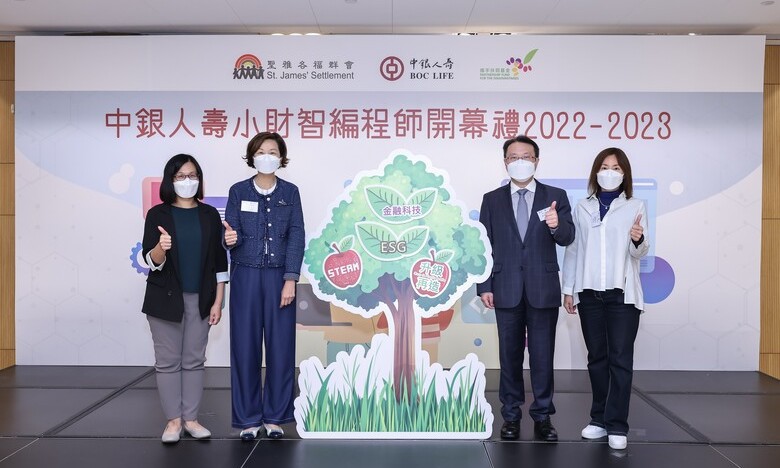 20 October 2022
'New Generation Financial and Technology Designers' Programme Combines Technology & Creativity to Nurture Students' Skills in ESG and Innovation
BOC Group Life Assurance Company Limited ('BOC Life') partnered with St. James' Settlement to take Hong Kong's STEAM education to new heights with the 'New Generation Financial and Technology Designers' Programme (the 'Programme') combining technology and creativity. The Programme not only marks a new milestone for the 'Grant-in-aid Brightens Children's Lives Service', but also meets the STEAM (Science, Technology, Engineering, Arts and Mathematics) education needs of local students. Environmental, Social and Governance (ESG) elements are also added to the Programme to help students develop environmentally friendly habits and the spirit to serve, and apply the STEAM knowledge to become ESG-centric innovators.
Themed around STEAM, the Programme tailor-designed a diversity of coding courses integrating technology application, social values and environmental awareness to realise students' creative potential. The kick off ceremony for the Programme of the 2022-2023 academic year was held today (20 October), unveiling this semester's courses.
Mr Wilson Tang, Chief Executive of BOC Life, said at the ceremony, "BOC Life is committed to promoting sustainability, whilst integrating ESG into its strategy and operation. Fostering the educational development of our next generation is not only a highlight of our CSR initiatives, but also a key to sustainable development of our society. We are pleased to see that the Programme serves multiple purposes, from teaching students coding technologies, deepening their understanding of ESG, to discovering the students' creative talent through their shrewd application of STEAM knowledge."
Ms Josephine Lee, Chief Executive Officer of St. James' Settlement, expressed, "Applying technology into daily lives and practising green living are the current trends. Having gained knowledge in the fields of technology, environmental protection and financial management from a young age, students will enjoy a solid foundation for future studies. I thank BOC Life and 'Partnership Fund for the Disadvantaged' for their generous support again, providing primary school students enrolled on the 'Grant-in-aid Brightens Children's Lives Service' with a creative and meaningful programme."
The Programme offers two courses respectively for junior and senior primary students, with each course consisting of 16 workshops, a STEAM exploration, competitions and a graduation ceremony, totalling around 24 hours. Through a series of activities, the Programme wishes to stimulate students' interest in STEAM and ESG. Students will be exposed to different coding skills and make their own robots using different recyclable materials collected in their daily lives. Primary two and three students will be enrolled on coding and environmentally friendly robotic workshops where they will acquire understanding of environmental protection, waste recycling and reuse, as well as learn to treasure resources. Primary four to six students will partake in AI and wealth management coding workshops, which include elements of social care on top of coding skills, enabling them to understand the needs of the underprivileged and the disadvantaged – as well as coming up with innovative mobile applications rich in personal characteristics.
First launched in 2021, the Programme benefitted 162 school kids of five primary schools from underprivileged families. As the Programme rolls out for another year, an addition of 160 school kids of six primary schools from underprivileged families will take part.
Yuen Kei-hon, who was primary six student of TWGHs Hok Shan School last year, participated in the inaugural year of the Programme. He shared, "I noticed that when the fifth wave of the epidemic broke out, people had to queue up to buy rapid antigen test kits or different medicines to combat the pandemic, while some people who are physically challenged were unable to go out to do so. I therefore would like to leverage the convenience brought by technology to help the physically-challenged or elderly to be able to buy the necessary anti-epidemic items while staying at home."
During the opening ceremony at David Li Kwok Po Community Hall, St. James' Church, Wan Chai, some school kids who were enrolled in the first year of the Programme joined as 'peers', sharing their unforgettable experience and feelings with guests. The guests also took part in the specially designed booth activities with school kids, including ball-pushing robot car and goods-sharing platform app, making the occasion brim with amusement.