BOC Life and Bupa announce business collaboration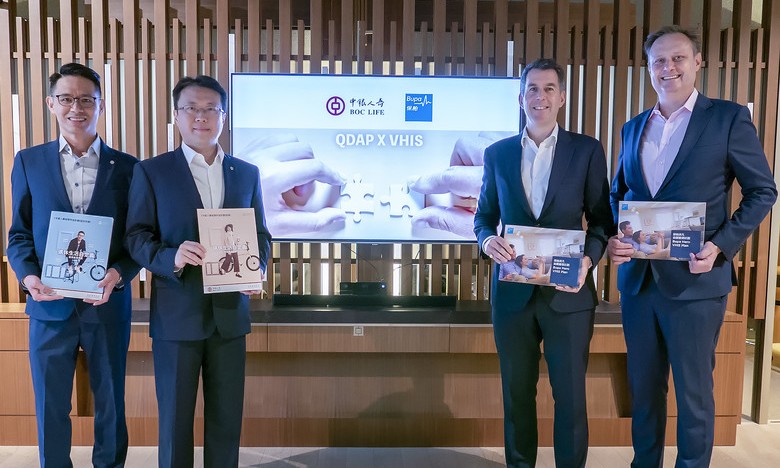 04 May 2020
BOC Group Life Assurance Company Limited ("BOC Life") and Bupa (Asia) Limited ("Bupa") are today announcing a business collaboration, whereby BOC Life's customers will be offered the new Bupa Hero VHIS Plan – Bupa's third certified Flexi Plan under the Government's Voluntary Health Insurance Scheme (VHIS). BOC Life's widely acclaimed Qualifying Deferred Annuity Policy (QDAP) products, together with the Bupa Hero VHIS Plan will bring competitive tax deductible solutions to the public for health and retirement protection.
Bupa will appoint selected insurance agents of BOC Life as general insurance agents of Bupa, extending the reach of Bupa's market leading VHIS offering to wider customer segments. This collaboration will offer customers Bupa's extensive healthcare support with the highest1 VHIS coverage for Asia2 that goes above and beyond other VHIS Plans in the market.
The new Bupa Hero VHIS Plan provides the highest1 coverage up to HK$30 million every year for Asia2 among all VHIS plans in the market and offers Hong Kong's first Mental Health Service Hotline and mental health clinical network. Together with its full cover for prescribed non-surgical cancer treatments in Asia2, the Hero Plan provides people in Hong Kong greater support and coverage for both their physical health and mental wellbeing.
"We are delighted to collaborate with Bupa to distribute a highly competitive VHIS product in the market. With BOC Life's strong propositions in the deferred annuity segment, the synergy between us will bring ultimate benefits to customers who are looking for compelling health and retirement protection from expert provider" said Wilson Tang, Chief Executive, BOC Life.
"Supporting people's holistic health and mental wellbeing is a priority for us, and with the introduction of the Bupa Hero VHIS Plan, we have taken our VHIS offerings to the next level. We really value our collaboration with BOC Life, which enables our high-quality health insurance products to reach a more extensive customer network, especially at this challenging time when so many people are looking for excellent medical services to meet their physical and mental health needs" said Andrew Merrilees, General Manager, Bupa Hong Kong.
Eligible policyowner or his/her spouse may be entitled to tax deductions according to the guideline issued by the Hong Kong Inland Revenue Department on his/her BOC Life QDAP products and Bupa Hero VHIS Plan underwritten.
---
1 VHIS Plan for Asia, Australia and New Zealand coverage. Source: VHIS website as of 29 April 2020
2 Asia includes Australia and New Zealand