BOC Life Launches 'New Generation Financial and Technology Designers' Programme Inaugural Year Concludes with Success in Driving STEAM Education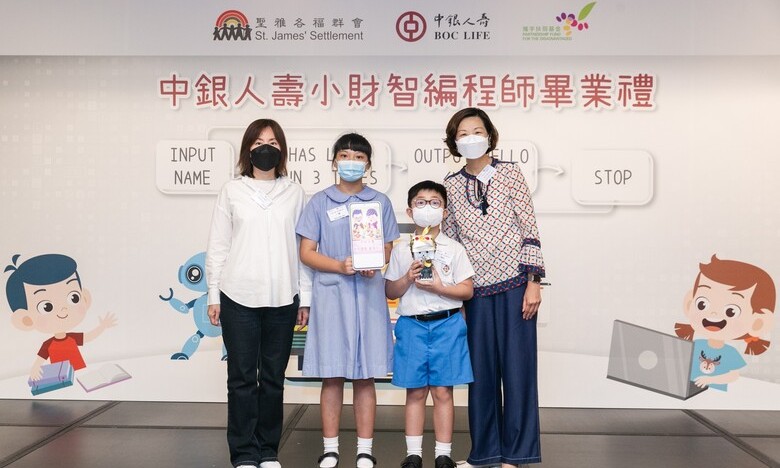 15 July 2022
BOC Group Life Assurance Company Limited ('BOC Life'), together with St. James' Settlement's 'Grant-in-aid Brightens Children's Lives Service', launched the 'New Generation Financial and Technology Designers' Programme (the 'Programme') in October 2021. Benefitting 162 school kids of five primary schools from low-income families in the first year of the Programme, was brought to a satisfactory close in July 2022.
Since its inception in October 2021, the Programme has promoted STEAM education alongside social values and environmental awareness, while unleashing students' creativity. The Programme offers two courses respectively for junior and senior primary students. Primary two and three students were enrolled on programming and environmentally friendly robotic workshops where they learnt different coding techniques and practised upcycling through making robots from recycled materials. Primary four to six students took part in AI and wealth management programming workshops. Basic understanding of FinTech was taught on top of coding skills, with which students developed mobile phone apps to help the underprivileged. Online competition for the two workshops were also successfully held in June this year. The inaugural graduation ceremony of the Programme took place at David Li Kwok Po Community Hall, St. James' Church, including an award ceremony was also held for the app design and environmentally friendly robot competitions. Not only did students get to showcase their outstanding works, but the gold prize recipients also shared the creative ideas behind their award-winning pieces. The event was live broadcast online.
Ms. Vivienne Chiu, Chief Brand and Communications Officer of BOC Life, shared during the occasion, "BOC Life, as the sponsor, is encouraged to see that the Programme, under the support of St. James' Settlement and the 'Partnership Fund for the Disadvantaged' of the Social Welfare Department, was well-participated by school teachers and students, allowing students to strengthen their understanding and application of STEAM via coding exercises, whilst exploring their creativity and talent. We are excited that the aim of the Programme, which is to brighten children's lives using grant-in-aid, has been fulfilled."
Ms. Josephine Lee, Chief Executive Officer of St. James' Settlement, said, "The competitions and the graduation ceremony offer a golden opportunity for students from different schools to exchange ideas and learn from each other. I am pleased to listen to the students' explanation of the concept behind and the design of their works, showing their rich understanding of STEAM application. St. James' Settlement is grateful for the support of BOC Life, and we look forward to enabling more school children to learn about STEAM in the coming years."
The gold medal of the programming and environmentally friendly robotic workshops went to Wong Cheuk Hang Jasper, Primary 2 student of Sharon Lutheran School. He made his 'Brave Rave Cat' robot out of upcycled beverage carton and ice cream sticks. Apart from his coding knowledge, he also made use of electric materials such as Micro:bit components, server motors, LED lights and rainbow electric cables, in creating a robot based on recycling concepts and capable of accompanying children during their playtime.
Primary 5 student of Tung Wah Group of Hospitals Hok Shan School, Chan Yat Po obtained the gold award for AI and wealth management programming workshops. Understanding that a majority of elderly people suffer from The Three Highs, overweight or heart disease, Yat Bo partnered with nutritionists in coming up with a series of colourful and nutritious recipes. The mobile app lets the elderly choose their meals that are both delicious and nutritious. Other than photos of the meals, the app is also equipped with voice control function, making it easier for the seniors and their caregivers to pick their food while imbuing the elderly with care and love. Apart from sponsoring the Programme, BOC Life also encouraged its staff volunteers to take school children onto an exploration journey of STEAM during which they shared scientific knowledge and conducted experiments. Through the event, the volunteers helped the students discover the fun of science and STEAM.